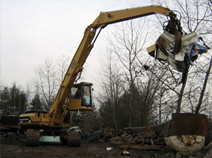 Delivered or picked up with our fleet of specialized vehicles and containers from 2 cubic yards to 60 cubic yards. We can haul up to 100,000 pounds. Flatbed, lowboy, landoll and crane services available. See more pictures in our Gallery.
Free consultation service to maximize the return on your scrap value!
Any metal items no matter how large or small, any size, any quantity. From a can full to a bulldozer!
Cast Iron
Steel
Appliances (no Freon)
Motors
Transmissions
Auto Body Scrap
Demolition Scrap
Junk Cars
Trucks
Buses
Construction Equipment
Production Machinery
Light Iron
Sheet Metal
Household Scrap
Manufacturing/Production Equipment
and Much More!