R & R Industries is a leading choice for many customers in Western MA and Northern CT. We sell parts for foreign and domestic cars and light trucks from the 1960's to present models that are available in our self-service 'pick & pull' parts department and specialize in vehicles over 10 years old. From bumper to bumper and everything in between, save up to 80% under cost of new parts, most with a 30 day guarantee.
We have the largest selection of guaranteed used tires and wheels in the area to fit most cars, trucks, and equipment.
If we don't have it, we can find it with our FREE nationwide parts locating service.
We sell new aftermarket auto body, mechanical, suspension, and electrical parts. Also, new auto glass with installation.
Tires
Bumpers
Fenders
Lights
Mirrors
Radiators
Batteries
Alternators/Starters
Auto Body Parts
Glass – New and Used
Suspension
Motors
Transmissions
Axles
and Much More!
We offer towing services for scrap cars, trucks and construction equipment. If it does not run, no problem! We can haul vehicles up to 100,000 pounds (50 tons). We buy all scrap auto parts. See our scrap metals page.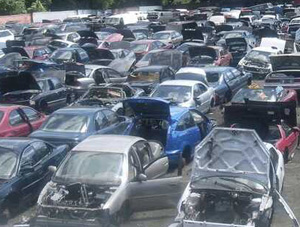 Earth Mover Tires. Many sizes available. Call with your needs.